Now that everyone is using the internet to help people live a normal life, web traffic is increasing on a global scale. Anytime there is an increase of people using the internet, it is equally important to practice internet safety.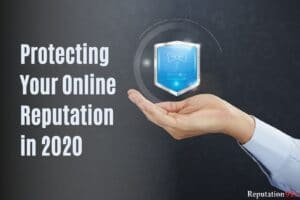 Understanding how to protect your online reputation in 2023 and beyond is something that will not only give you peace of mind, but allow you to get in front of new opportunities that will arise from a world that is converting to stronger use of the internet.
Why Is It Important to Protect Your Online Reputation? 
Your online reputation is a direct reflection of your online presence. It is based upon how others perceive your online search results when they Google your name.
This can be anything from your activity on social media sites to news articles that mention your name. Anything posted online that contains your name (your search term) is all taken into consideration when forming your online reputation. 
Your search results can either create a positive online presence for you, or a negative online presence – it all depends on what type of content comes up in your first page of search results when you Google your name. 
It's important to protect your online reputation during times when you're making personal, professional, or financial decisions in your life. 
Almost all college acceptance boards will do a Google search on you before reviewing your college applications. The same goes for hiring managers at the company you've been wanting to apply to, they will most likely Google your name to do a quick background check. What type of information will they see online before they get to meet you in person? 
Oversharing personal information on your social media profiles can greatly affect your online reputation in a negative way. The same goes for negative reviews posted on review sites that contain colorful language and sometimes offensive material.  
It's incredibly important to actively protect your online reputation by practicing a few simple rules before posting anything online. In the grand scheme of things, it could greatly impact your ability to reach your next opportunity in life. 
How to Avoid a Reputation Crisis 
Though it is completely normal and healthy to express concern and frustration during challenging times, social channels and online platforms are not the best place to do so for businesses and individuals who are trying to build a stronger brand. 
Using the internet to strengthen your brand and build a better online reputation during 2020 is not only helpful for your business or personal brand, but is actually a noble way to help the online community during a time of crisis. 
Remain Neutral Towards Controversial Topics
Everyone is aware of the virus outbreak, and it has led so many to feel frustrated, afraid, and uneasy. Avoiding pointing fingers or putting any type of blame on others is crucial to avoiding a reputation crisis, and should be a primary principle of a healthy content marketing plan at all times.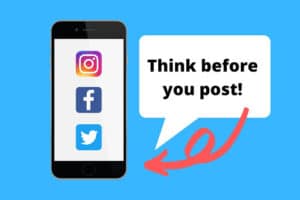 Remaining unbiased and neutral on public platforms and avoiding any type of opinionated posts or comments towards controversial topics allows your brand to remain safe from any type of content that could be potentially harmful to your brand if taken the wrong way by someone from your online audience. 
Remain Positive and Uplifting 
Instead of adding fuel to the existing fire revolving around negativity, frustration and uncertainty, offering positivity and encouragement to your online audience can help offer credibility to your brand while uplifting others in a difficult time. It's not only a safe business practice, it's a way to naturally strengthen and spread brand awareness to your target audience. 
Gaining the trust and admiration of the people you're trying to connect with naturally establishes lasting relationships that will help you in the long run. 
Don't forget to Fact Check 
As always, fact checking any information you share on a public platform is extremely important to help you avoid any type of online reputation crisis. Any spreading of misinformation that can be linked back to your online platforms can seriously hurt your chances of remaining as a trustworthy source of information. 
Taking just a little extra time to double check your information and fact checking multiple sources can help you avoid any mishaps down the road.
On the other hand, spreading helpful insight and information can actually help build your online credentials by helping you appear as a valuable source of information. Don't be afraid to offer the information that might take a little extra research, just make sure to justify your material with credible sources. 
Proper Use of Social Media for Businesses 
Social media platforms can either be the best or worst place for your brand, and you get to choose which direction to go in. Aside from practicing the crisis prevention tactics listed above, there are additional ways to build your brand after recovering it. 
Whether for a business reputation or personal reputation, designing a content marketing plan that utilizes professional social media accounts is a stand alone way to drastically improve your online presence. 
Social media is a place for potential customers to learn more about your products or services in an engaging way. Utilize your social platforms to help leverage your brand and offer positive and educational content to your customers. Your audience will be drawn to your content if it offers qualities that are engaging, educational, helpful, and encouraging. 
Utilize Positive Reviews To Strengthen Your Brand 
Another great way to help protect your online reputation for the long term is by improving your online reviews. Even if you are a personal brand, accumulating reviews or quotes about your work from past customers or coworkers can help improve your online presence. 
Online reviews are so important for your brand because they offer an unbiased opinion about your products and services to a fresh audience that might be interested in investing in you or your business. This is especially helpful for local and small businesses because it helps build leverage over local competition. 
When someone types your name into a search engine like Google, your search results will either help or hurt your brand. Ensuring that your search results are filled with positive content and feedback from your customers and clients creates an online presence built for success. Removing negative reviews and getting more positive online reviews will help new customers trust that your brand is a valuable asset. 
Protecting Your Online Reputation is
Always
Important 
Regardless of what year we're in, the digital age is an ever evolving world that can be used as an incredible tool for your businesses and personal brands. Investing in online reputation management is something that can give your freedom, peace and success in multiple directions of life. Start improving your online reputation today with a free consultation!
Related posts