The Effect of COVID-19 On Small Businesses
The spread of COVID-19 has forced many businesses deemed "nonessential" to close their doors following the onset of social distancing requirements and stay at home orders. The CODIV-19 crisis has not only affected the health of the world, but it has also brought on a new wave of devastating impact on small business and turmoil to supply chain demands.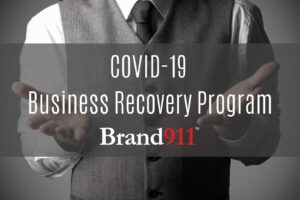 The negative impacts of the Coronavirus (CODIV-19) have forced small business owners to completely reconfigure how their business operates. Both small and medium sized businesses now face a whole new realm of requirements moving forward to ensure the health and safety of their customers and employees. 
Why Businesses Need a COVID-19 Recovery Plan 
The COVID-19 pandemic has forced businesses into a recovery process. Business models without recovery plans are now facing the repercussions, suffering from short term plummets in cash flow and eventually long term effects on working capital. 
Having a business continuity plan allows businesses impacted by COVID-19 to fall back on a project management guide based on risk assessment. Business continuity plans give employers, executives and employees the peace of mind knowing a process is set in place to ensure the safety and wellbeing of the company as a whole. 
How Brand911 is Helping Businesses Recover
Brand911 is a digital marketing agency created to help businesses build and strengthen their brand. Brand911 has taken large steps to build a Business Recovery Program specifically designed to provide aid for small business owners who are facing the devastating impacts of COVID-19. 
In times like these small business owners need reassurance knowing that they are supported, whether it be by their community, customers, or other business leaders. 
Brand911's main goal is to provide an assistance program to help small business owners regain control of their company, with economic development at the forefront of the near future. 
COVID-19 Business Recovery Program Overview and Plan Highlights
Brand911's Business Recovery Program is designed to support entrepreneurs, local and small businesses faced with the challenges of reopening and entering back into the world of business following the negative impacts of COVID-19. 
The program utilizes three main approaches to building and strengthening a professional brand: Online PR; SEO (Search Engine Optimization), and content marketing. Together, those three pillars support a wide range of digital marketing services provided by Brand911. 
The COVID-19 Business Recovery Program begins with a  full digital marketing analysis which provides key information on where your business is coming from, which markets are untapped, and where advertising costs may be missing the mark and can be better utilized. 
Business owners can see first-hand exactly what is working and what isn't. From there, further recommendations are provided in areas of: 
Building your online brand

Increasing your digital footprint 

Gaining more visitors to your website

Improving SEO

Improving brand image and trust 
Brand911 Offers 50% Off All Services Digital Marketing and Advertising Services During the COVID-19 Re-Opening
In further efforts to support entrepreneurs and the small business community, Brand911 is also offering 50% of all digital marketing and advertising services and FREE press releases courtesy of PR Search Engine, a digital press release service guaranteed to get your business found online. Get back in business with the help of Brand911 with a free consultation, or give us a call at 1-888-913-6552 to get started today!
Related posts